Your Advocacy Matters! Early Voting Has Begun
October 12, 2018 by Stacy Brannan-Smith / voting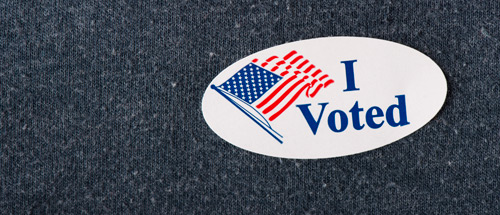 Election Day is Tuesday, November 6, but registered voters in Ohio can cast their ballots early, both in person and by mail.
Early, In-Person Voting
If you want to vote before Election Day but enjoy going to the polls (and getting your sticker!), you can vote early and in-person at your county's early voting location. You should check with your county board of elections to find out where you should go.
Hours for early, in-person voting are the same statewide:
8 a.m. to 5 p.m. Monday-Friday, October 15-19
8 a.m. to 5 p.m. Monday-Friday, October 22-26
8 a.m. to 4 p.m. Saturday, October 27
8 a.m. to 7 p.m. Monday, October 29-Friday, November 2
8 a.m. to 4 p.m. Saturday, November 3
1 to 5 p.m. Sunday, November 4
8 a.m. to 2 p.m. Monday, November 5
Even if you're voting early, you still must bring valid identification to vote. And just like at your regular polling place on Election Day, if you're in line when the early voting location closes, they must still let you vote.
Absentee Voting by Mail
If you prefer to vote at home, you can request an absentee ballot and mail it in or drop it off at your county board of elections. If you have a vision impairment or other print disability, you can request to use the new remote absentee ballot marking tool that allows you to receive a digital version of your ballot so you can use a screen reader to mark your ballot privately and independently. You can read more about the absentee voting process in our recent blog and watch our recent video about the remote ballot marking tool on our Facebook page and YouTube channel.
We're Here to Help
DRO is dedicated to ensuring people with disabilities have equal access to the polls. If you have questions or problems voting, contact us.
Make a Donation
Please give. To the best of your ability.