Educating Voters is the Goal of SABE GoVoter Project
July 16, 2019 by Guest Writer Shari Cooper / voting
July 15-19, 2019, is National Disability Voter Registration Week.
Have you ever been told who to vote for while you were at the polls? Or perhaps, because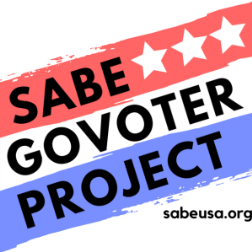 of your disability, a poll-worker assumed you were incompetent and treated you like a child?
If this hasn't happened to you, consider yourself lucky. Unfortunately, voting issues like these happen to people with disabilities often. Voting is a right, and there are organizations doing their best to assure people know their rights.
In April, I participated in the Self Advocates Becoming Empowered (SABE) GoVoter Project along with six other amazing Ohio advocates representing the Council of Ohio Leaders (COOL), Goodwill Easterseals Miami Valley, Hamilton County Developmental Disabilities Services, Ohio Developmental Disabilities Council, Venture Productions and Disability Rights Ohio. The training was also attended by advocates from Kansas and Pennsylvania.
The SABE GoVoter Project is a three-part training series where we learned the ins and outs of voting. Some of the questions we answered were:
How many days before you vote do you have to be registered?
What's a primary election?
What does one do if he or she can't sign the election poll book?
What can you do if your polling place isn't wheelchair accessible?
Who do you call if you have a voting question or problem?
Many people who have had a bad voting experience might let it deter them from ever voting again. We as advocates don't want this. Knowledge is power and everyone's vote counts, including people with disabilities.
Thanks to the training we got through the SABE GoVoter Project, Ohio advocates are now equipped to go around the state and train others. Our mission is to make sure people with disabilities know their rights when it comes to voting. We also want people to know about the accessibility accommodations that are available.
If your upcoming conference is in need of a voting session or you feel your agency, organizations or company could benefit from voting training, please email Stacy Brannan-Smith, Communications & Outreach Manager at Disability Rights Ohio, at sbrannan-smith@disabilityrightsohio for more information.
We'd also like to give a huge thanks to the sponsors of this amazing project: the Administration on Community Living (ACL), National Disability Rights Network (NDRN), Disability Rights Ohio (DRO), the Ohio Self Determination Association (OSDA), Hamilton County Developmental Disabilities Services, and the Council of Ohio Leaders (COOL).
Remember, your vote counts. Don't miss an opportunity to have your voice heard.
---
Shari Cooper is a strong advocate for everyone who lives with a disability. In her position as Public Relations Assistant for Goodwill Easter Seals Miami Valley, Shari is the "blogger-in-chief." She's also a columnist for the Dayton Daily News Editorial pages and an award-winning speaker. This year, she served as the official emcee for DD Statehouse Advocacy Day, introducing advocates as well as the Governor, Lieutenant Governor, the Director of the Ohio Department of Developmental Disabilities and other speakers. She even gave a TED talk at TEDx Dayton in 2014 called "Are you OK with yourself?" But the role she cherishes most is that of disability awareness advocate.

Shari's impact as an advocate is far-reaching. She has served on the Governor's Council on People with Disabilities and on the Ohio Secretary of State's Americans with Disabilities Council. In 2008, she was elected to the Board of Directors for the National Association of Councils on Developmental Disabilities. She's served on the Ohio Developmental Disabilities Council, and currently serves on the Board of Directors of The Disability Foundation.
Make a Donation
Please give. To the best of your ability.