Part 1: The DSP shortage is turning lives of people with disabilities upside down, including mine
January 29, 2019 by DRO Board Member Susan Koller / community integration
This blog post is the first in a two-part series Susan has written about the direct support professional (DSP) shortage and her choice to move into an intermediate care facility (also called an ICF/IDD). Read Part 2 here.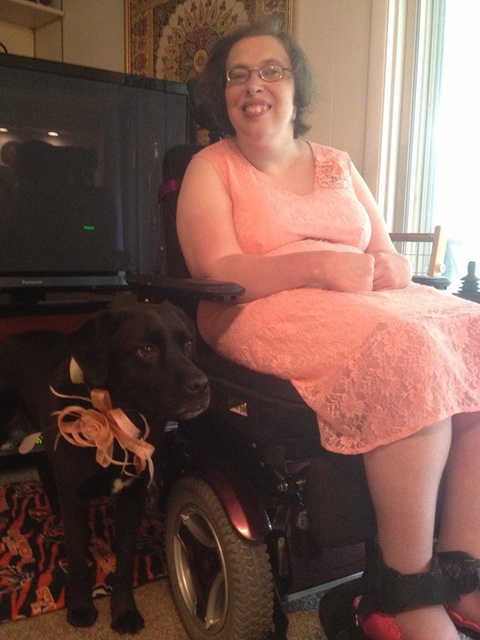 My name is Susan Koller. I'm 36 years old and have cerebral palsy. I use an electric wheelchair and need help with all my activities of daily living. On April 4, 2018, my life got turned upside down when I moved to a long-term care facility (ICF/IDD) for individuals with neurological disorders.
Two years ago, I never would have believed that I'd now be living in a nursing facility for people with disabilities. I went to college and worked both out in the community and from home. When not living in a dorm, I'd always lived with my parents, but I began thinking about moving out on my own. I had so many things to consider. I even had my name down for an accessible apartment. So what happened that led me from the community to my current facility? It wasn't an easy decision, and many factors went into my move. The main reason I moved was that I couldn't find and retain the direct support professionals (DSPs) I needed to help me stay in my home or live in the community.
The Early Years
I was blessed growing up because my parents did all my care until I went to college. As an undergraduate at Wright State University, I had student aides help with my care, which enabled me to live on campus during the week. This gave me a great sense of freedom and flexibility in my schedule. In grad school, I used aides from a home healthcare agency that took my Medicaid waiver.
After School
After grad school, I moved back home and started working. Shortly after that, my dad passed away. In addition to the emotional loss, I had one less caregiver. Through the state, I was eligible for six home healthcare hours five days a week. An aide would get me out of bed, help me with lunch and toileting, and come help me to bed. I need much more than 30 hours per week, but I was fortunate that despite her full-time teaching job, my mom was willing and able to do the rest of my care. Eventually the state approved for more hours, but it was hard enough to get the 30 hours filled. Also, my mom and I found it less disruptive to our lives for her to do my care instead of having aides coming and going throughout the day.
I worked from home and Mom taught. We continued this way for eight years. This system was not perfect. There was a great deal of turnover among the aides, which meant I had to spend time finding and training new ones often. Aides would also call off a lot -- often with little to no notice. I was never stuck without care because my mom always covered, even if it meant she had to get up early to get me dressed before going to work. Also, we were blessed with supportive friends, who came over if I needed something and the aide couldn't come.
The DSP shortage has insidiously impacted my life for many years. Originally, I had different aides for the different shifts. However, eventually we had one aide for all three shifts because we couldn't find anyone else. I didn't like having only one aide. I found the relationship got too intense, and I didn't like depending on one person. Mom, this aide, and I fell into a good routine, however, for five years. Once again, it was not perfect. The aide still called off a lot, but we made it work.
Everything Changes
Everything changed a year and a half ago when we lost that aide and couldn't find reliable replacements. Mom and I called numerous agencies. We tried independent providers. I scheduled interviews, but the providers wouldn't show up. We finally found an agency to cover my morning and lunchtime shifts. Since we were having so much trouble getting the daytime shifts covered, we didn't try to get the nights covered. Then, when both of our aides quit in December 2017, there was no one. Mom did my care 24/7. Obviously, there was no way I could move out on my own without any aides. I would've needed much more than 30 hours of care a week.
Part 2 of Susan's story will be published on Tuesday, February 5.
---
Susan Koller is the newest member of the Disability Rights Ohio Board of Directors. She grew up in Saudi Arabia and moved to Centerville at the age of 12. After earning a Bachelor's degree in Mass Communication and a Master's degree in Public Administration from Wright State University, she worked as Publicity Director for Checker Book Publishing Group and as a pro bono Public Relations Specialist for the Tandana Foundation. She is currently a self-advocate trainee in the Cincinnati Leadership Education in Neurodevelopmental and Related Disabilities (LEND) Program, where her work is focused on the shortage of direct support professionals (DSPs) that led her to move into a long-term care facility (ICF/IDD) in 2018. She enjoys spending time with friends and family, watching TV, walking her in-home service dog, Chia, and reading.
Make a Donation
Please give. To the best of your ability.