#AdvocacyMatters: A Needed Change
November 13, 2020 / #AdvocacyMatters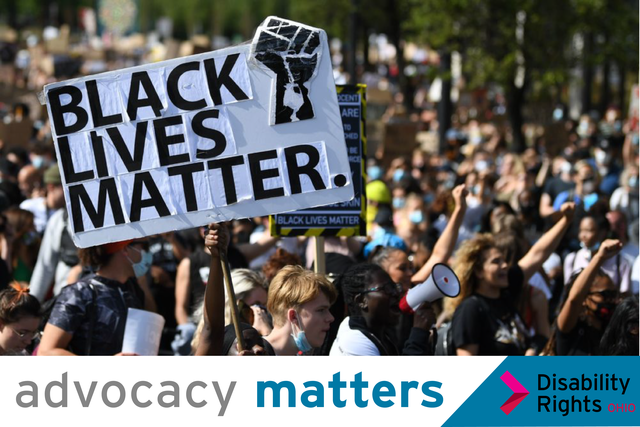 With our mission being centered on creating a society where people with disabilities are full and equal members, it is imperative that remain aware of how the systems of our society impact people with disabilities. When several high-profile cases of unarmed people of color being killed by police led to a dramatic rise in support and awareness for the Black Lives Matter movement earlier this year, DRO committed to fighting for equality and justice where issues of race and disability intersect.
The facts are inescapable: Data shows that marginalized groups are at high risk for police use of force and death by police—including Black, Indigenous, and People of Color (BIPOC) and people with disabilities. While people with disabilities make up only 20% of the population, they make up 30-50% of all police uses of force and 33-50% of all deaths at the hands of police. The intersection of race, sexual orientation, and disability exacerbate your risk for being harmed or killed by the same people charged with protecting and serving our communities.
As a civil rights organization, we must push back as long-standing systems of oppression prevent marginalized individuals from fully integrating into our communities. This week, Disability Rights Ohio released Policing and Racial Injustice: A Disability Rights Perspective. The report highlights unjust policing in BIPOC communities which disproportionately affects people with disabilities. The impact on individuals is severe and leads to trauma, incarceration, and death. In our report, we recommend three courses of action to begin mitigating the damage done within these communities:
• Make Meaningful Reinvestments into Community Services
• Change Crisis Response
• Eliminate School Resource Officers
From 2000 to 2017, police expenditure averaged 14% of all state and local spending while people in our communities struggled to meet basic needs like housing, transportation, food, and healthcare—all things that disproportionately impact people with disabilities. We are calling for the reinvestment of large policing budgets into community-based services and supports that address the root causes of systemic oppression.
The path to stronger communities is clear: We must dismantle and reform the systems that have led to discriminatory policies which oppress and disenfranchise BIPOC people and people with disabilities. We know that the work has just begun, but Disability Rights Ohio will continue to stand and fight for equality at the intersection of race and disability because #AdvocacyMatters.
Make a Donation
Please give. To the best of your ability.