#AdvocacyMatters: Amplifying Change
December 11, 2020 / #AdvocacyMatters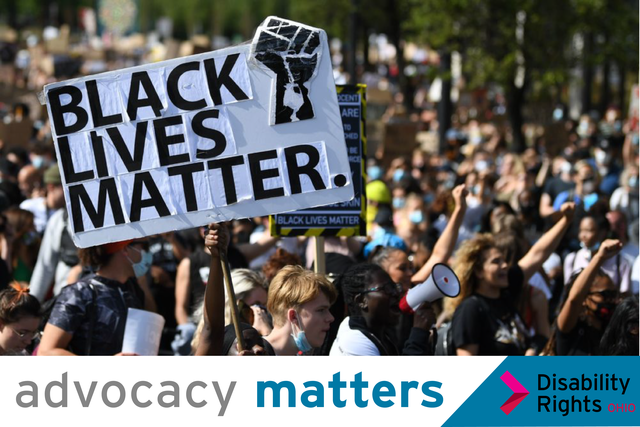 In a groundbreaking report last month, we firmly established our position and commitment to seeking justice where race and disability intersect. Prompted by several high-profile cases of unarmed people of color being killed by police and a dramatic rise in awareness for the Black Lives Matter movement earlier this year, DRO acted quickly to join the calls for justice. Seeking a response that was substantive and fact-based, we went to work. By analyzing data from a multitude of cases, both here at home and across the country, we set out to fully understand the reality faced by people of color with disabilities in encounters with police.
While not a topic an organization like ours has focused on in the past, we believe it is incredibly important to acknowledge that a free and equal society cannot be realized until these mechanisms of systemic discrimination are diagnosed and eliminated. Engaging our community, our legislators, and our allies about these topics is an early – and important – step in bringing our mission to life.
Understanding that these issues are far larger than our Columbus-based offices or statewide footprint, we were honored by the opportunity to submit this report to the United Nations High Commissioner on Human Rights. The UN Human Rights Campaign is committed to the promotion and protection of the full range rights and freedoms as outlined in the Universal Declaration of Human Rights. This kind of global recognition doesn't just support our work, it amplifies it many times over.
We know that the voice of one small organization might not be able to change the world, but a choir of like-minded organizations in harmony surely can. Having a seat at the table – and a spot in the choir – brings greater influence on behalf of our communities and a bigger opportunity to live out our mission. Our position and commitment are clear: Where race and disability intersect, we will not give up the fight for justice. On the global stage, #AdvocacyMatters.
Make a Donation
Please give. To the best of your ability.