#AdvocacyMatters: Care Work in Crisis
September 10, 2021 / #AdvocacyMatters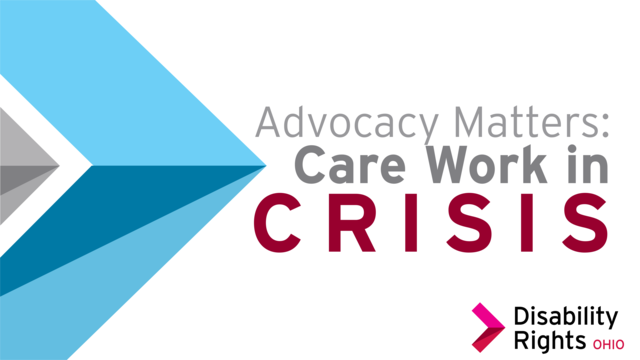 For many Ohioans with disabilities, home- and community-based services (HCBS) and the direct care workers that provide them are crucial to everyday life. Direct care workers help people with anything from personal care tasks—like bathing or getting dressed—to complex medical needs. A third of these workers are immigrants and over half are Black women, Indigenous women, or women of color. Historically, their work is undervalued, so it's no surprise that the average direct care worker makes less annually than it costs for a single person to live and meet their basic needs in Ohio, leaving as many as 1 in 6 below the poverty line. Ultimately, the job is labor-intensive, personal, and low-paying—which may explain why over 50% of direct care workers leave each year, putting individuals with disabilities at high risk for institutionalization or other harmful outcomes.
Years in the Making—HCBS Access
At Disability Rights Ohio (DRO), HCBS access has always been a top priority. Our class-action lawsuit, Ball v. DeWine, asserted that people with developmental and intellectual disabilities have the right to meaningful choice in their care, and there shouldn't be year-long waits to get an HCBS waiver. In April 2020, the Court approved our settlement agreement with the state, which agreed to improve access to HCBS waivers and education for individuals in intermediate care facilitates. Our work, we knew, could not end there. Starting this year, we reached out to individuals in these facilities, educating them on their right to live, work, and go where they choose and the benefits of the Ball settlement agreement.
Still, many people with disabilities go through the arduous process to receive an HCBS waiver, only to realize there are no caregivers available. While the number of care workers entering the field continues to decline, the need for these services is expected to increase more than 30% in the next decade.
Slipping Through the Cracks—COVID-19 and the #CareCrisis
As COVID-19 cases skyrocketed, so did the fear of increased spread for both caregivers and individuals receiving HCBS services. Between labor scarcity and COVID-19, more individuals than ever were at high risk for institutionalization in facilities which have been even more deadly during the pandemic.
By autumn 2020, DRO joined forces with partners statewide to form the Ohio HCBS Coalition to shift attention towards the state budget, advocating for increased wages for workers. DRO advocated alongside nearly 130 partner organizations and individuals with disabilities, submitting legislative testimony, conducting advocacy trainings, and developing a grassroots campaign for HCBS in Ohio. The Coalition's advocacy was successful—by the end of the budget, the legislature had included rate increases, and Governor DeWine has committed to implementing those increases.
Carrying On—Advancing Our Advocacy
Even with the increase, the care crisis continues—and Ohioans with disabilities remain in the heart of it. Although we're still developing our final 2022 Goals and Objectives, public survey respondents made one thing remarkably clear: the #CareCrisis isn't disappearing any time soon.
Looking forward, we'll keep working with those most impacted to advocate to policymakers, increase public awareness, and empower Ohioans with disabilities. Tackling the care crisis is no easy feat, and we hope you'll join us in creating an accessible, more equitable Ohio. From class-action cases to budget bills, your #AdvocacyMatters.
Make a Donation
Please give. To the best of your ability.