#AdvocacyMatters: Floating to the Finish Line
June 4, 2021 / #AdvocacyMatters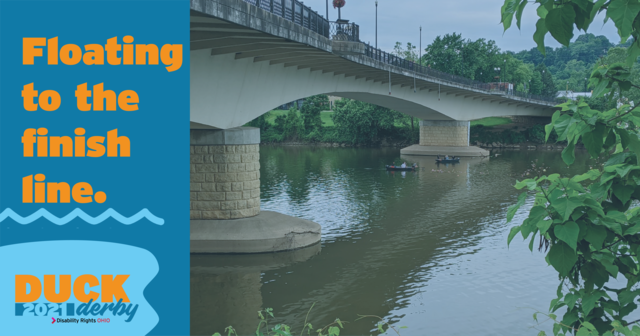 Perhaps you heard the faint quacking earlier this week as more than 300 rubber ducks paddled down the Muskingum and Ohio Rivers near Marietta. Or, more likely, you heard us cheering along the shores, following the ducks' progress and, moreover, proud to have successfully "spread our wings" with our first ever Duck Derby event. Our event goal wasn't just to raise money, but to connect and engage with the communities we serve across the entire state of Ohio. And, we had fun doing it. Mission accomplished!
The Derby was truly a team effort. We owe a big thanks and immense gratitude to all who helped us pull it off. Board member Bill Bauer spearheaded the idea and enlisted the help of the Marietta High School Crew team who were instrumental in the initial duck dump and then guiding the ducks to the finish line. Thanks to board members Walt Asbury for providing the "round up" nets and Susan Koller for turning out to cheer on the ducks. We are grateful to the clients and community partners who also turned out along the riverbanks race route to cheer their ducks to the Putnam Street bridge finish line. And a big thanks as well to the Washington County Board of DD for their $500 sponsorship and spreading the word via their social media channels. Our DRO team put in countless hours to ensure the Derby went off without a hitch. DRO Executive Director, Kerstin Sjoberg, was even recruited for our livestream, play-by-play of the race via Facebook Live. Even the weather cooperated! Of course, thanks as well to all who bought ducks as a playful way to support DRO.
At the end of the day, our three winning ducks (coincidentally representing one of each color) took home a $75 Amazon gift card and a Derby t-shirt and prize Derby mug. More importantly, we've created a new and fun way for people and organizations to support the work we do each and every day, advocating for the civil and legal rights of people with disabilities. Because even when we're talking about Duck Derbies, #AdvocacyMatters.
Quack, quack; here's to next year's race. 🐥🐥🐥
See all our Derby Day photos here.
Make a Donation
Please give. To the best of your ability.