#AdvocacyMatters: Leading the Charge to Protect Equal Access to Care
July 13, 2020 / #AdvocacyMatters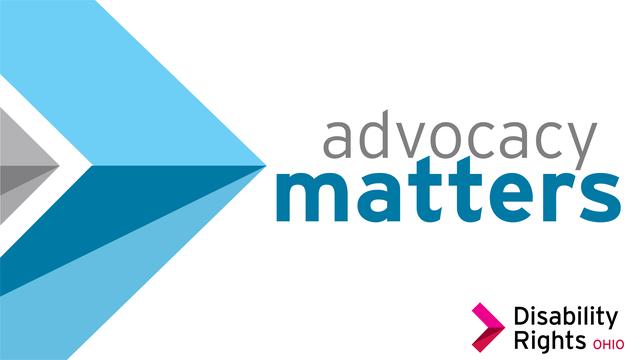 Since the beginning of the COVID-19 crisis, there have been very serious concerns across the country about equal access to life-saving health care for people with disabilities. Early guidance from Ohio's officials presented a solid foundation for care, but we believed more needed to be done to protect Ohioans with disabilities. Disability Rights Ohio led a coalition of organizations to advocate for significant improvements to Ohio's rationing of care guidelines to ensure it clearly prevented discrimination.

Through letters and virtual meetings, DRO worked hand in hand with our partners to advocate for a strong statement prohibiting categorical exclusion criteria based solely on diagnosis or condition in hospital rationing care protocols. We also insisted that the state's guidance should warn against language in hospital protocols that prioritize "young" or "healthy" patients over those who are "older," "sicker" or who tend to have disabilities.

We are happy to report that this tireless work has paid off. As COVID-19 cases in Ohio climb, it is reassuring to know that rationing care protocols for medical resources cannot discriminate against Ohioans with disabilities. Such discrimination fails to recognize the humanity and dignity of people with disabilities by devaluing their lives. This is simply never acceptable.
"A person's disability status, presence of underlying health conditions, race, or ethnicity cannot be determining factors to exclude them from lifesaving medical treatment or prioritization for scarce medical resources," the new guidance reads. "Systems and medical professionals cannot use disability status, pre-existing medical conditions, race, ethnicity, age, or quality of life perceptions as factors for determining or deprioritizing treatment or allocation of resources for a person."
As we continue to navigate these unprecedented times, know that Disability Rights Ohio will continue to lead the charge to ensure the health and safety of Ohioans with disabilities. After all, that's the core of our mission. We'll continue to fight… because #AdvocacyMatters.
Make a Donation
Please give. To the best of your ability.