After an accident, they impounded her wheelchair. We helped her get it back. #AdvocacyMatters
August 3, 2018 / #AdvocacyMatters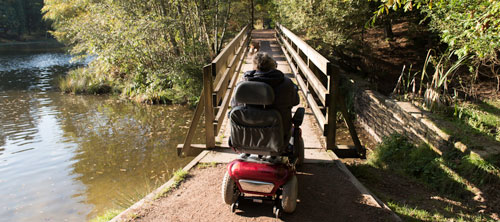 Sadie wanted to be home before dark. To get there, she had to drive her power wheelchair down streets with no sidewalk. Before long, she tumbled down an embankment and was thrown from her chair. Thankfully, some passersby saw what happened and called an ambulance to come and take her to the hospital, where she got the care she needed. But when it was time for her to go home, she discovered that the police had taken her wheelchair to an impound lot, and they wanted $250 before they would give it back. Stunned, she called Disability Rights Ohio for help.

A DRO advocate called the chief of police directly. The chief explained that they treated her wheelchair the same way they treat cars in similar situations. Our advocate explained that unlike a car, Sadie's wheelchair is her only source of mobility and is therefore part of her body. He told the chief they should have towed it directly to the hospital so it would be available to her when she was discharged. After some negotiating and checking with Sadie, everyone agreed that she would pay only $50 - the cost for the tow truck to bring her wheelchair to her. She thanked DRO for giving her back her mobility and for helping to educate the local police.

Disability Rights Ohio is here to help when your rights are being violated. Contact us by phone or fill out an online intake form. You can also find information on a wide variety of topics in our Self-Advocacy Resource Center.
Make a Donation
Please give. To the best of your ability.