Aleeha Dudley wanted to be a veterinarian. Her university couldn't help her. We did. #AdvocacyMatters
March 3, 2017 / #AdvocacyMatters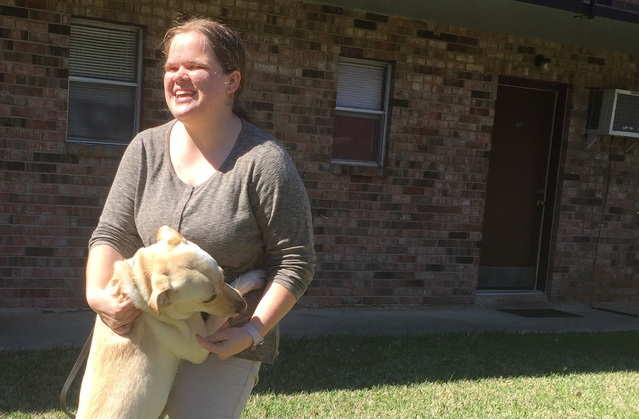 Aleeha Dudley has loved animals all of her life. She grew up on a farm with all kinds of livestock and wanted to be a vet from the time she was seven. She is also blind. In 2011, she earned a scholarship from the National Federation of the Blind to enter the pre-veterinary program at the Miami University in Ohio.

Unfortunately, things at Miami did not go as planned. University staff proved to be unprepared to provide Aleeha with equal access, as they struggled to provide her with even basic accommodations. Not all of her textbooks were available in Braille, and those that were had numerous errors. Three-dimensional graphics were also supposed to be provided, but students, who had no relevant experience, created these incomprehensible graphics. As a result of these poor accommodations, Aleeha's grades suffered during her three and half years at Miami.

Despite Aleeha's best efforts at self-advocacy, she eventually realized that she needed outside help. She contacted Dan Goldstein, a lawyer for the National Federation of the Blind, who reached out to Disability Rights Ohio. The two organizations negotiated with the school, and when unable to resolve quickly, filed a lawsuit in January 2014. Later they sought the help of law professor Ruth Colker, who specializes in disability rights and education access. And in June 2015, the Justice Department joined the lawsuit after finding that Miami University systematically violated the Americans with Disabilities Act.

After months of negotiation, a settlement was reached. Aleeha was awarded $108,000 to pay for education at a university of her choosing, $50,000 of student loan repayment, and an additional $102,000 in damages. The settlement also requires Miami University to make significant changes to ensure that future students have what they need, including significant changes to practices for obtaining and utilizing technology, requirements to make its website and Learning Management Software accessible, and training for faculty and staff about the importance of accessibility and how to achieve it.

"This is a landmark case," says DRO Director of Advocacy Kerstin Sjoberg-Witt. "Thanks to the support of the NFB, collaboration with the Justice Department, and the courage of Aleeha Dudley, this is by far the most comprehensive agreement of its kind. The guidelines in the settlement are a great roadmap for what universities should be doing to comply with the Americans with Disabilities Act."
Life in Louisiana

Her experiences at Miami left Aleeha a shadow of her former self.
"I no longer believed I could do anything, let alone be a vet," she recalls.

But going to the Louisiana Center for the Blind totally changed her outlook on life. From September 2015 to May 2016, she learned valuable skills, including increased experience with using a computer and Braille, increased problem solving and confidence, and hands-on activities such as wood shop and cooking. She also went on several class trips, including going horseback riding, chopping down a Christmas tree, and even going to New Orleans for Mardi Gras. She feels the experience got her back to her old self, and she enrolled in Louisiana Tech in September 2016.

Aleeha is enjoying her time at Louisiana Tech, making the Dean's List thanks to her work ethic and proper accommodations.

"Now, I just write an email or make a phone call and my problems are solved," she says. "I think I've been in the Disability Office once this semester, and that was just to pick up a textbook."

She still plans to become a vet and is even allowed to do hands-on work with animals, something she was not allowed to do at Miami. Aleeha acknowledges that there are several challenges ahead of her, but she's looking forward to facing them.

"I know it's going to be hard, but I know I'll always have people to help me up."
Make a Donation
Please give. To the best of your ability.