He wanted to be able to communicate. We helped him get the device he needed. #AdvocacyMatters
August 10, 2018 / #AdvocacyMatters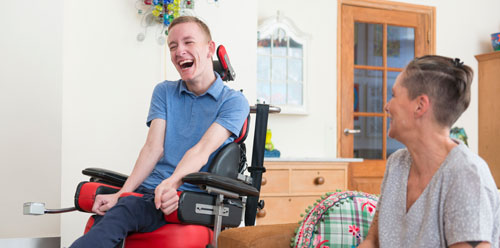 Vaughn wanted a new speech-generating device. Although he can write, he has limited use of his hands, so forming words with pen and paper is very difficult. His current device was nearly 20 years old, so it was big, clunky and had started to make loud clicking noises when it was plugged in. It really limited how much he could communicate with the people around him. When a DRO advocate visited him, he asked for her help.
With Vaughn's permission, our advocate reached out to his guardian and caregivers and provided the information they would need to get approval for a new speech-generating device. After meeting with a speech therapist and a device vendor, Vaughn chose a more advanced device that can track his eye movements. It also enables him to more easily travel into the community because it is compact enough to fit into a backpack on his wheelchair. DRO's advocate met with Vaughn several times to ensure the process continued to move forward, and after several months, he received his brand new speech-generating device. He's excited to learn how to use it and find out what new opportunities might open up as he explores his community with his communication barriers removed.

Assistive technology (AT) can make a world of difference for people with disabilities. If you receive a device and have problems with it, remember that you have some protections under Ohio's Assistive Technology Lemon Law.
Make a Donation
Please give. To the best of your ability.