Her service dog was denied entry at a JFS office. We opened the doors. #AdvocacyMatters
April 19, 2019 / #AdvocacyMatters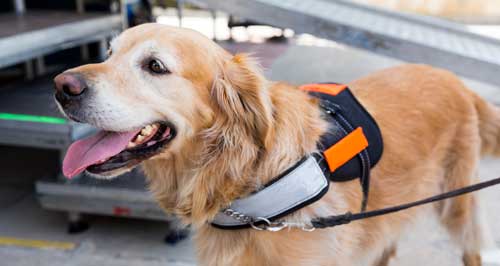 Lynn's service dog is trained to help her manage the symptoms of her PTSD. When making trips to her local Job and Family Services (JFS) office, security staff asked Lynn twice to provide proof of her dog's status as a service animal. Both times, they ultimately refused to allow her dog to enter. Knowing that they were violating her rights, Lynn reached out to DRO for help.

A DRO attorney contacted the JFS office to inform them of Lynn's right to bring her service dog into the building without asking her for certification or registration. As a result, the JFS director became familiar with the law about service animals and informed her staff. She told the DRO attorney that Lynn would no longer have to be concerned about her service animal being denied access to the building. Now, Lynn's trips to her local JFS office are much less of a hassle, and she is grateful to have her service dog by her side.

Read more about your rights to have a service animal in our Self-Advocacy Resource Center and in our previous blog.
Make a Donation
Please give. To the best of your ability.