She needed a simple accommodation. One phone call from DRO made the difference. #AdvocacyMatters
February 2, 2018 / #AdvocacyMatters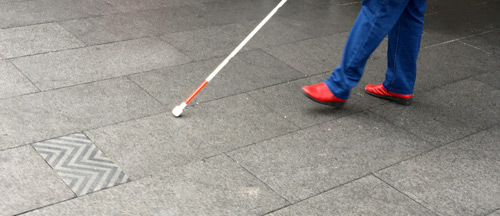 Rebecca frequently meets with her case manager at a local agency. Because she's blind, she needs someone to offer an arm to guide her from the lobby to her case manager's office once she gets inside the building, but she was told that front office staff wouldn't provide that service because of liability concerns. Frustrated, she called DRO for help.

DRO staff talked to the agency's compliance and patient relations department to advocate for the accommodation Rebecca needed. They were assured that the issue would be resolved, and front office staff would receive additional training on how to handle such requests. An agency supervisor then reached out to Rebecca to let her know that they would provide the accommodations going forward.

Sometimes one phone call can make all the difference to someone with a disability facing an unexpected barrier like Rebecca's. If you need help, call DRO's intake team at 800-282-9181 (TTY 800-858-3542) or submit your request via our online intake form.

Read more about how to be a good sighted guide on the American Foundation for the Blind website. You can also find more helpful resources on a variety of topics in DRO's Self-Advocacy Resource Center.
Make a Donation
Please give. To the best of your ability.