She needed someone to fight for her education. We stepped up. #AdvocacyMatters
August 31, 2018 / #AdvocacyMatters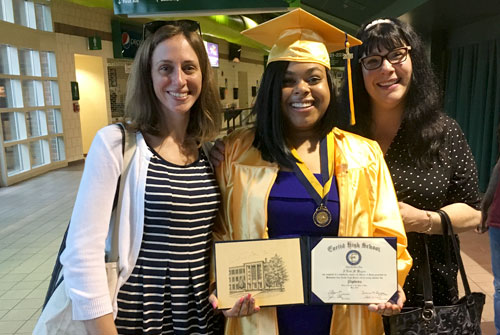 A'loni Wagner was doing great in a school for kids with behavior disabilities, but her school district no longer wanted to pay for her attendance there. Instead, they sent her to her local middle school, where she struggled with teachers who often resorted to immediately restraining her instead of helping her through practical interventions. In seventh grade, she got expelled twice, missing 117 days of school. Her mom knew that she wasn't getting the free, appropriate public education that was her right, so she called DRO.

DRO attorneys Kristin Hildebrant and Laura Osseck filed two lawsuits on A'loni's behalf, and in the process uncovered systemic problems with the school district, which they reported to the Ohio Department of Education. ODE found multiple violations and put the district on a corrective action plan. Eventually, A'loni transferred to a different district that allowed her to once again to go a school that would serve her specific needs. She worked hard to make up the time she had missed, got fantastic scores on her SATs and graduated on time at age 18. She's now planning to continue her education at Cuyahoga Community College.

Watch for our blog next week to read A'loni's full story, and find more special education resources in our Self-Advocacy Resource Center.
Make a Donation
Please give. To the best of your ability.