She wanted to cast her absentee ballot privately and independently. Our lawsuit made it a reality. #AdvocacyMatters
April 13, 2018 / #AdvocacyMatters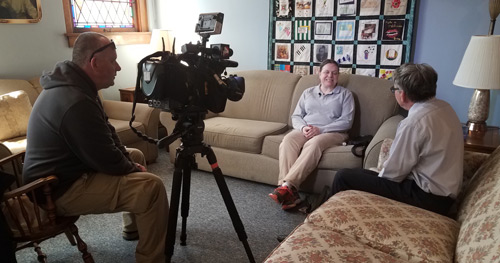 Shelbi Hindel has voted in every election since she turned 18. Because she is blind, she needed help to read the ballot for many years, relying on someone to read it aloud to her and trusting them to vote the way she wanted to. Accessible voting machines with screen reading technology were helpful, but getting to the polls can be difficult for her, especially since her polling location was moved to a community center that is not within walking distance or on a bus line. Those problems made absentee voting at home really appealing, but Ohio's absentee voting process has been paper-based, so she'd again have to find someone to read the ballot to her and mark it on her behalf. She found it unacceptable that she had to give up her privacy.

"I don't want to trust someone to fill out an absentee ballot for me," she says. "If you want to share that is your prerogative, but you shouldn't be forced into sharing that with anyone."

So when the National Federation of the Blind approached Disability Rights Ohio about filing a lawsuit to challenge the inaccessible absentee voting process, she proudly became a named plaintiff in the suit. Hindel v. Husted was filed in December 2015.

DRO and its co-counsel, Brown, Goldstein & Levy, LLP, successfully pursued the case through the United States District Court and the Court of Appeals for the Sixth Circuit. Now, after more than two years, Ohio is preparing to launch accessible absentee ballot marking tools in time for the November 6, 2018, General Election. In a directive issued in January, Ohio Secretary of State Jon Husted told county boards of elections that they must select, test and implement such a tool by September 1. Voters with print disabilities will be able to request the digital absentee ballot, which will allow them to use screen reading technology to read the ballot and mark it before printing it, signing it and mailing it in. Shelbi is so excited for this new option that will allow her to vote privately and independently like any other voter. She hopes it will encourage more people with disabilities to cast a ballot.

"We have so much to be thankful for, and we should not take that for granted," she says. "We should vote."

Reporter Rick Reitzel from NBC 4 in Columbus interviewed Shelbi and DRO Attorney Jason Boylan about the case. Watch and read that story here.

Early Voting Has Begun for May 8 Primary
Voting in Ohio is underway for the May 8 Primary Election. Although the accessible absentee ballot marking tool is not available yet, all Ohio voters can submit an application for an absentee ballot by noon on Saturday, May 5. Absentee ballots must be postmarked on or before Monday, May 7. Early, in-person voting hours are also available weekdays through April and every day May 1 through May 7. Check with your county board of elections to find your early, in-person voting location.

If you have questions about voting or problems voting because of your disability, contact DRO at 800-282-9181 and select option 2 for intake. You can also find many voting resources on the Voting page of our Self-Advocacy Resource Center.

#AdvocacyMatters
Make a Donation
Please give. To the best of your ability.