They wanted feedback about new voting machines. We weighed in. #AdvocacyMatters
January 19, 2018 / voting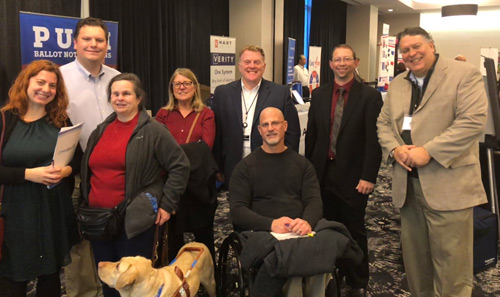 The Franklin County Board of Elections is considering a purchase of new voting machines, and they want to make sure the machines they select continue to be accessible to people with disabilities. So they invited Disability Rights Ohio, the Center for Disability Empowerment, the American Council of the Blind of Ohio, and Deaf Services Center to come in and provide feedback on the machines in consideration. The group assessed machines from five different vendors and gave input on physical accessibility, user friendliness, size and privacy concerns. The group plans to provide formal feedback to the board in the coming weeks.
Under our Protection & Advocacy Under the Help America Vote Act grant, Disability Rights Ohio provides critical assistance to voters with disabilities. This includes educating individuals, communities and boards of election about the voting rights of people with disabilities, monitoring complaints about voting accessibility and privacy, and collaborating with other voting rights advocates for systemic change. If you would like to invite DRO to assist with a voting accessibility project or give a presentation about voting rights, please contact our Intake Department. For more information about voting rights for people with disabilities, visit the Voting page in our Self-Advocacy Resource Center.
Make a Donation
Please give. To the best of your ability.