With DRO's help, Zach Ricker finds his way #AdvocacyMatters
February 9, 2018 / #AdvocacyMatters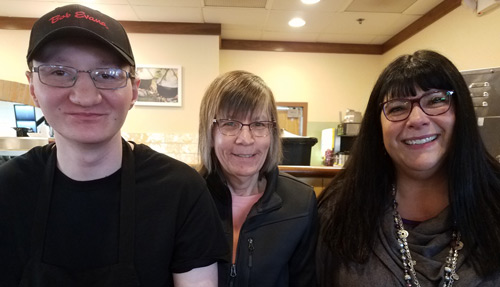 Zach Ricker (left) and his mom, Lorie (center), stand with DRO Attorney Kristin Hildebrant at the Bob Evans restaurant in Bellefontaine, where Zach works.
Zach Ricker is happy now. At age 18, he's got a job at Bob Evans in Bellefontaine washing dishes and bussing tables, and he's making friends with his co-workers. It's a life his parents, Lorie and Tim, have fought for, but it could easily have turned out differently.
Trouble with School
When Zach was 12, Lorie called DRO on the advice of his specialists at Nationwide Children's Hospital after an incident at school left him in a difficult situation.
"He had behavior problems," Lorie recalls. "He was receiving great care from his doctors and therapists, but at school he was hitting people, hurting himself, throwing chairs. One day, he pulled a girl's hair, and her parents got a protective order to keep Zach away from her. The school wanted to send him away, to a school for children with behavioral issues. He was terrified."
DRO Attorney Kristin Hildebrant stepped in to work with the school and the court so both students could be at school without violating the protective order. She negotiated for the services and supports Zach needed to stay in school, but the school never fully implemented any plans.
"They never did anything with fidelity," Kristin says. "Even when we brought in doctors and other experts to help create plans, the school didn't follow through."
When it became evident that the school district was not going to serve Zach appropriately, DRO brought in Opportunities for Ohioans with Disabilities (OOD), the state agency that helps people with disabilities prepare for employment, to start focusing on his transition to life after school.
Ultimately, Zach graduated with a regular diploma in May 2017, but he spent the last half of his senior year with a one-on-one tutor at the library. Lorie and Tim find it frustrating to think about everything he missed out on.
"He had a lot of potential – he still does – but he didn't get to do the things I know he could have done," Lorie says. "It was always a fight. They always underestimated him."
New Life After High School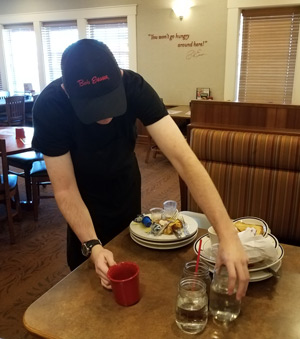 Over the summer, Zach participated in a summer work program through OOD and the Logan County Board of Developmental Disabilities. After trying out different jobs, he found that he really likes working in a restaurant. In Fall 2017, he started his job at Bob Evans.
"I like doing the dishes," he says, with a smile. "I'm more of a heavy lifting type of guy. And if I don't know how to do something, they show me how to do it."
His co-workers have embraced him, and he hopes to increase his hours.
"Zach does a good job," says Chad Criswell, the restaurant's Assistant General Manager. "He's reliable. He comes in and gives his all, and he gets along with everyone."
Zach has big plans for his life from here on out. He dreams of buying a house, fixing it up with his dad and renting it out. He wants to get married and have kids. Even better: without the stress of school, he no longer has to be on medication.
Lorie is convinced DRO changed the course of Zach's life.
"If Kristin hadn't stepped in when she did, I think Zach would have ended up in prison before long," she says. "Even though the system is so broken and it was so frustrating, we've had excellent representation from DRO. Everyone from intake to the attorneys has been so helpful. You all have such drive. You make a difference one person at a time."
Make a Donation
Please give. To the best of your ability.