Without his scooter, he couldn't safely visit his son in prison. We helped him keep rolling. #AdvocacyMatters
October 20, 2017 / #AdvocacyMatters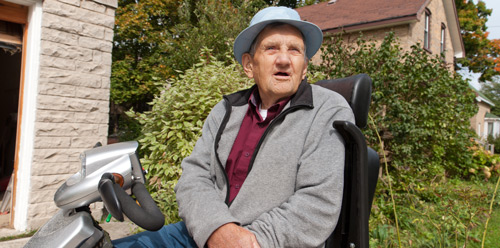 Melvin's son is serving a prison sentence, and Melvin and his wife, Reba, like to visit him once a month. When checking in at security, though, the prison staff required Melvin to turn in his motorized scooter and use a chair on four small wheels instead. However, the visitation area is located up a hill, and Reba struggled to push him safely. Melvin also couldn't push himself because it wasn't an appropriate substitute for a wheelchair, so the next several times he tried a cane or a walker. He fell twice. Prison staff ignored his desperate pleas for accommodations, so he called DRO, hoping we could help.

A DRO attorney called the prison office and spoke with a staff member, who agreed that Melvin should be able to use his own scooter, as long as it was searched first. Prison officials verified this to our attorney in writing, so Melvin has verification to use at the security gate, in case he faces problems in the future. Melvin is now free to visit his son without worrying about being denied access or hurting himself.

Get more information about disability rights and community integration in our Resource Center.
Make a Donation
Please give. To the best of your ability.