A'loni Wagner gets to graduation with advocacy support from DRO
September 5, 2018 by DRO Communications Specialist Stacy Brannan-Smith / special education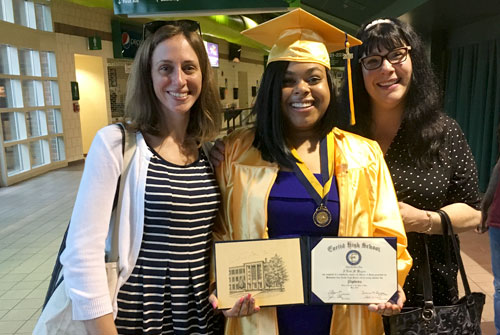 A'loni Wagner had gone to an alternative school for kids with behavioral disabilities for most of her life, and she did well there.
"They treated me like me," she says, "I had lots of friends there. I was a popular kid. I knew everybody. I knew all the teachers. I liked it there. I didn't get restrained at all at that school."
But when she got to middle school, Maple Heights City Schools no longer wanted to pay for her to get services at the alternative school, so they pulled her out and put her in the local public school instead.
At first, things weren't so bad. The special education teacher she had cared about teaching and did it well.
"It was a passion for him," A'loni says. "But when he left, they treated me like I had a learning disability, even though I didn't. They started giving me fifth-grade work, even though I was in seventh grade. It was way below my level. After that, I just stopped doing my work."
Instead of working with her to help her calm down when she got upset, they would immediately move to restrain her, and they eventually dropped her from special education services entirely. By the time she was 12, she had been expelled twice and missed 117 school days, denying her the free appropriate public education (FAPE) she had a right to receive.
Her mom called Disability Rights Ohio, and attorneys Laura Osseck and Kristin Hildebrant filed a lawsuit on A'loni's behalf. Wagner says she didn't know that she had lawyers standing up for her at first, but when her mom told her about it, she felt good. She remembers thinking, "You mean, someone cares? Besides my mom?"
Meanwhile, Maple Heights continued to deny A'loni her rights to behavioral and academic services, forcing DRO to file a second suit immediately after the first suit settled.
While working on A'loni's case, DRO had uncovered problems with other kids, so we asked the Ohio Department of Education to perform a systemic review of Maple Heights City Schools. ODE found multiple violations, including students being taught by unqualified teachers, educational plans not in compliance with federal law, and the failure to follow proper procedures in the discipline of students with disabilities. The district was placed on a corrective action plan.
By that point, A'loni and her family moved from Maple Heights to Euclid. Thanks to DRO's legal advocacy, Euclid City Schools agreed to send her to a different program for students with behavioral disabilities. She worked hard to make up the time she'd lost, and she scored well on her SATs, which allowed her to graduate on time at age 18. Kristin and Laura were there when she walked across the stage.
She wants to make it clear that the problem was never that she didn't want to be at school.
"I didn't hate school," she says. "When I was at Maple Heights, I went to school every day when they let me go, but they found every reason for me not to be there."
Now she's signed up for classes at Cuyahoga Community College, but she's still trying to determine what she wants to study.
Kristin and Laura see A'loni's success as a big win for everyone involved.
"Against all odds, A'loni persevered and graduated, and now she's pursuing more education," they say. "We couldn't be more proud of her for her hard work, and her mother for her tireless advocacy. This kind of outcome is why we do this work, and it's what keeps us going."
Sometimes kids need to know that someone cares. DRO's education team works hard to be that presence for as many kids as possible.
Make a Donation
Please give. To the best of your ability.